Previous Publications
This comprehensive Research Handbook provides an unparalleled overview of contemporary private law theory. Featuring original contributions by leading experts in the field, its extensive examinations of the core areas of contracts, property and torts are complemented by an exploration of a breadth of topics that cross the divide between private and public law, including labor law and corporate law.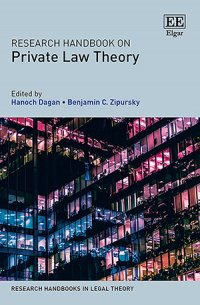 Please see Contents and list of Contributors here.
Contributors:
Gregory S. Alexander (Cornell), Lisa M. Austin (Toronto), Aditi Bagchi, (Fordham), Peter Benson (Toronto), Anita Bernstein, Brooklyn Law School), Sarah Blandy (Sheffield), Susan Bright (Oxford), Alan Brudner (Toronto), Hanoch Dagan The Edmond J. Safra Center for Ethics, TAU), Avihay Dorfman (TAU), Cynthia Estlund (NYU), Lee Anne Fennell (Chicago), Mark A. Geistfeld ( NYU), Andrew S. Gold (Brooklyn), Michael Heller (Columbia), Yotam Kaplan (Bar-Ilan), Gregory C. Keating (University of Southern California), Gregory Klass (Georgetown), Daniel Markovits (Yale), Thomas W. Merrill (Columbia), Paul B. Miller (Notre Dame), Sarah Nield (Southampton), Arthur Ripstein (Toronto), Irit Samet (King's College), Robert E. Scott (Columbia), Anthony J. Sebok (Yeshiva University), Emily Sherwin (Cornell), Joseph William Singer (Harvard), Henry E. Smith (Harvard), Ernest J. Weinrib (Toronto), Benjamin C. Zipursky (Fordham).
Critical acclaim:
'Private law theory today is a powerful scholarly discourse; it can lift up the learning experience of students and teachers making sense of the thickets of our modern law; it can stimulate jurists to make lasting contributions to legal culture, practical ethics and the behavioural and political sciences; and it can inform the practical work of judges, advocates and legislators. This exemplary Handbook lucidly and expertly covers the methods, models and ideals projected by the best writers in the field.'
– Joshua Getzler, University of Oxford, UK


'This important new volume reflects the burgeoning of academic interest in private law theory over the past decade. Bringing together the leading scholars in their respective fields, this cutting edge Research Handbook is sure to become a standard reference that everyone writing and teaching in the areas of property, contracts and torts will want on their bookshelf.'
– Eduardo M. Peñalver, Dean, Cornell Law School, US
Tthe Handbook of Privatization (Cambridge University Press), 2021.
Some goods and services seem to be fundamentally public, such as legislation, criminal punishment, and fighting wars. By contrast, other functions, such as garbage collection, do not. This volume brings together prominent scholars from a range of academic fields - including law, economics, philosophy, and sociology - to address the core question of what makes a certain good or service fundamentally public and why. Sometimes, governments and other public entities are superior because they are more likely to get at the right decisions or follow fair procedures. In other instances, the provision of goods and services by public entities is intrinsically valuable. By analyzing these answers, the authors also explore the nature of the state and its authority. This handbook explores influential arguments for and against privatization and also develops a number of key studies explaining, justifying, or challenging the legitimacy and the desirability of public provision of particular goods and services.
Please see Contents and list of Contributors here.
Contributors:
Shai Agmon (Oxford), Chiara Cordelli (Chicago), Brenda Cossman (Toronto), Michael Fehling (Bucerius), Talia Fisher (TAU), Lisa Herzog (Groningen), Louis-Philippe Hodgson (NYU), Israel Klein (Ariel), Jon D. Michaels (UCLA), Martha Minow (Harvard), Mariana Mota Prado (Toronto), J. Mark Ramseyer (Harvard), Hans-Bernd Scha¨fer (Bucerius), Assaf Sharon (TAU), Yael Kariv Teitelbarum (HUJI), Jonny Thakkar (Swarthmore College), Malcolm Thorburn Toronto), Ashwini Vasanthakumar (Queen's University), Alexander Volokh (Emory University).
Critical Acclaim:
"Does it matter if prisons or social services are run by private companies?
Should education be supplied by the market? Is anything lost when we privatize criminal punishment? Many governments are privatizing goods that were formerly publicly-provided. The usual justification for such privatization appeals to efficiency. The essays in this outstanding and wide-ranging volume argue that other values are at stake. They invite us to think anew about the role of the state and market in the provision of a range of goods including security, social services, intimate goods, and legal representation. This is an indispensable resource for anyone interested in this important topic."
DEBRA SATZ, Vernon R. & Lysbeth Warren Anderson Dean of the School of Humanities & Sciences, Stanford University
"A breakthrough contribution. This collection redeems the promise of interdisciplinary analysis for the assessment of sweeping real-world policy initiatives."
BRUCE ACKERMAN, Sterling Professor of Law and Political Science, Yale University
"Over the past three decades, many activities and services previously provided by governments have been transferred to the private sector, raising multiple challenges of politics, economics, democracy and justice. Dorfman and Harel have assembled a superb group of scholars from multiple disciplines and perspectives to engage with these challenges."
ARTHUR RIPSTEIN, University Professor of Law and Philosophy, University of Toronto
"The Cambridge Handbook of Privatization collects a wide-ranging set of incisive essays, to produce a comprehensive view of one of the most important political and legal trends of our time. Dorfman's and Harel's masterful introduction structures the debate in a way that opens a new window onto each position by bathing it in the light of the others."
DANIEL MARKOVITS, Guido Calabresi Professor of Law, Yale Law School
This Issue contains ten Essays presented at the conference "New Challenges for Law and Economics" hosted by the Center for Contract and Economic Organization at Columbia Law School and the Edmond J. Safra Center for Ethics at Tel-Aviv University last fall (September 2020). The Directors of these Centers – Robert E. Scott and Hanoch Dagan – served as guest editors.
Contributors: Jennifer Arlen (NYU), Oren Bar-Gill (Harvard and TAU), Albert H. Choi (University of Michigan), Kathryn Spier (Harvard), Hanoch Dagan (TAU), Roy Kreitner (TAU), Lee Anne Fennell (University of Chicago), Saul Levmore (University of Chicago), Daniel Markovits (Yale), Eric A. Posner (University of Chicago), Alan Schwartz (Yale), Simone M. Sepe (University of Arizona), Robert E. Scott (Columbia), and George G. Triantis (Stanford).