The international conferences organized and supported by the Edmond J. Safra Center for Ethics form a distinguished academic stage upon which to present the different perspectives of the world's top legal minds concerning the research questions that arise under the Center's research theme of "Markets, Ethics, and the Law." The papers presented at the Center's conferences are designed to be published in prestigious law journals and books. You are most welcome to follow, through the following pages, the progress of the Center's forthcoming conferences, or the advancement of the publication of papers presented at past conferences.
Conferences 2018-19
The Market as a Legal Construct – September 2019, Yale University, with the Yale Law School Center for Private Law
Markets arise and operate through law—not just through public regulation but also through private law regimes (in property, contract, and tort) that create entitlements, enforce market exchanges, and limit expropriation. Appreciating the significance of law as the infrastructure of markets reveals that market structures and many of the challenges that they pose—runaway inequality, the erosion of corporate accountability, and the commodification of politics—result from a complex set of choices and developments, including foundational choices that can remain disguised, far below the consequences that they produce. We will pursue questions such as, what models of the legal subject, the legal entitlement, inter-subjective legal relations, and legal authority are immanent in market orders, and what conception of law itself do these models invite? Papers from this conference are slated for publication in a special edition of Law and Contemporary Problems.
Please check here for the website.
A New Information Age – 16-17 May, 2019, Tel Aviv University
Information technology excites the imagination. Amidst near consensus that we live in an age where data technology is a game-changer, views are deeply polarized about the direction of change. Some hope new modes of generating and handling information will be keys to decentralizing power, expanding democratization, and generating an inclusive public sphere with limitless mobility. Others warn that current developments lean toward new frontiers of domination and centralized power, the eclipse of all privacy, and the snuffing out of meaningful avenues for personal autonomy and choice. Where some see the beginnings of utopia, others are convinced that the horizons for political agency are fast closing off, and that the end of individual freedom – even as an ideal – is around the corner. We take the polarization of discourse as meaningful in itself, a symptom of a lack of accepted analytical foundations to understand and evaluate the changes our societies are going through and the challenges those changes present. The conference will gather a group of thinkers to imagine analytic frameworks that would help us understand these developments. The inquiry is far-reaching and open-ended. It may alter not simply the way we view the relationship between technology and information, but also our most basic sense of the nature and value of individuality, of choice, of markets, of communal interaction, and of politics.
​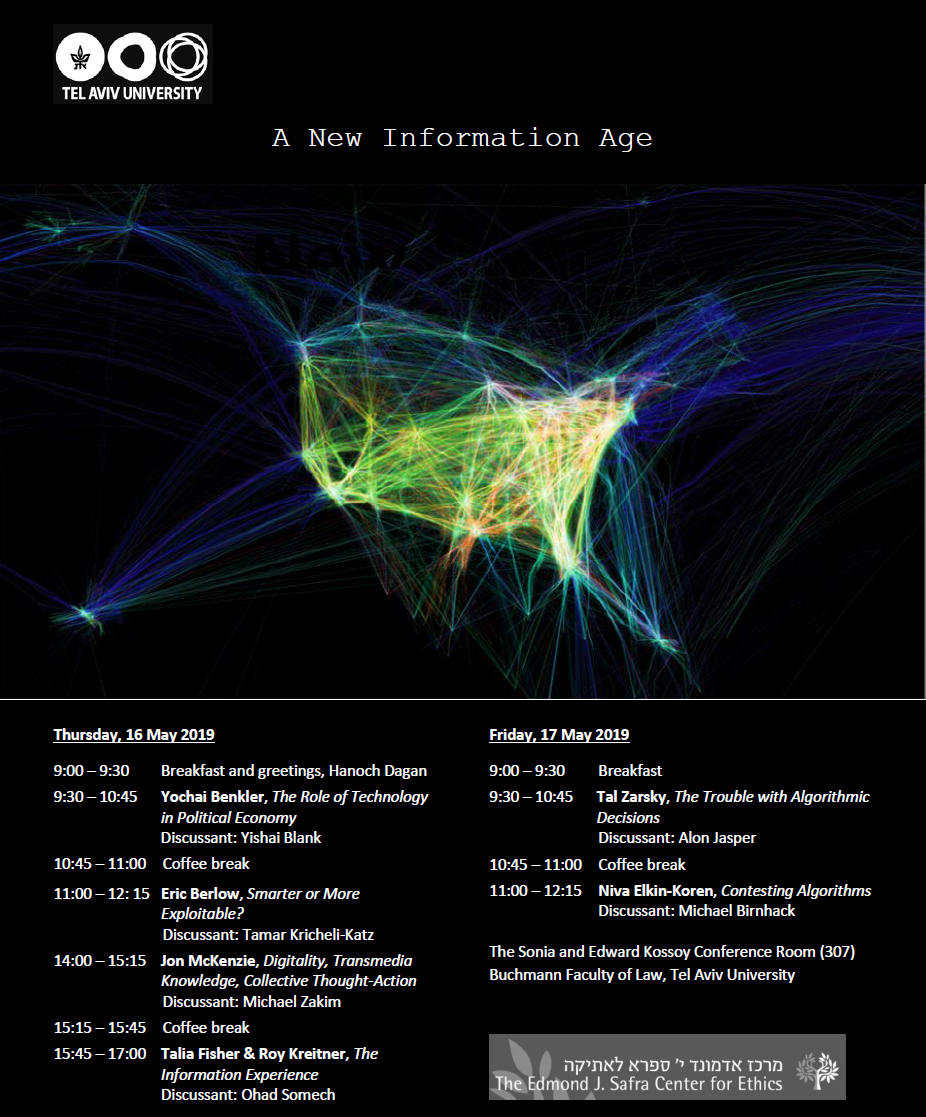 Israel Law and Society Association Annual Conference: Markets, Law and Inequality – January 20, 2019, Tel Aviv University
The Israeli Law and Society Association Annual Conference will focus on the links between markets, law, and inequality. Some of the central questions the conference will raise include, How do law and the market create inequality, and how do they deal with it once it exists? What role does the law play in justifying inequality? When and how does law mitigate inequality? Finally, what is the potential of the nexus of law and markets to correct or oppose inequality? We hope to explore different dimensions of inequality: class, identity (race, gender, nationality, sexuality), and community.
For more information about the program check here (in Hebrew)
The Sixth Privacy, Cyber and Technology Workshop - April 11, 2019
Co- Sponsored by the The Blavatnik Interdisciplinary Cyber Research Center
Privacy studies are an emerging cross-disciplinary field of study. The annual workshop on privacy and cyber studies is a platform for presenting and discussing cutting edge studies on privacy. Participants are typically from a broad range of disciplines: computer science, information systems, engineering, law, media studies, psychology and sociology, economics and more. The workshop is based on a call for papers, and submissions are carefully selected. The workshop is cosponsored by the Blavatnik Interdisciplinary Cyber Academic organizers: Prof. Michael Birnhack & Dr. Mickey Zar (TAU Law).
​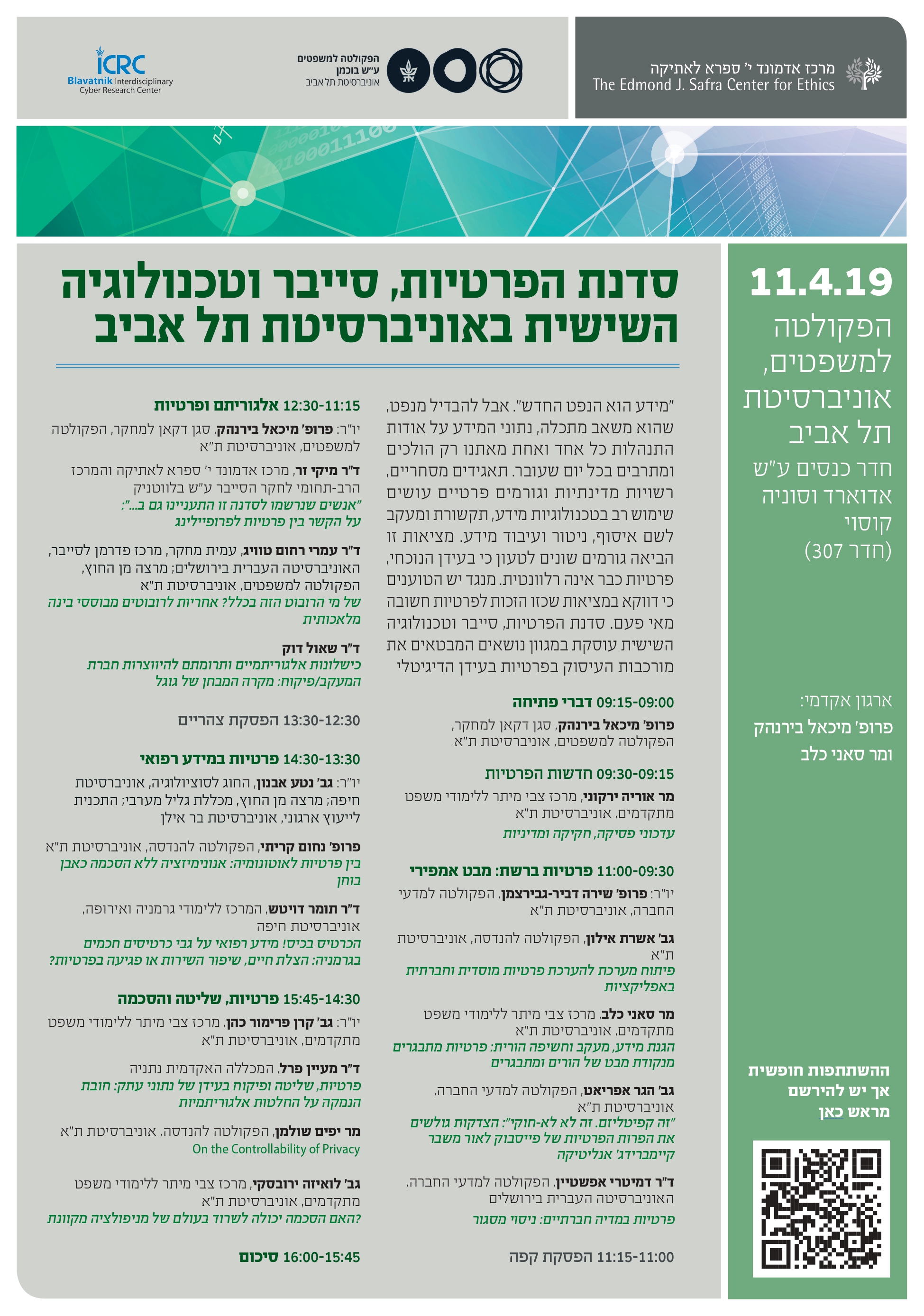 For the English vesrion please check here
The Mystery of the Kibbutz – Book launch, Prof. Ran Abramitzky, June 5, 2019, Tel Aviv University
The kibbutz is a social experiment in collective living that challenges traditional economic theory. By sharing all income and resources equally among its members, the kibbutz system created strong incentives to free ride or—as in the case of the most educated and skilled—to depart for the city. Yet for much of the twentieth century kibbutzim thrived, and kibbutz life was perceived as idyllic both by members and the outside world. In The Mystery of the Kibbutz, Ran Abramitzky blends economic perspectives with personal insights to examine how kibbutzim successfully maintained equal sharing for so long despite their inherent incentive problems.
Weaving the story of his own family's experiences as kibbutz members with extensive economic and historical data, Abramitzky sheds light on the idealism and historic circumstances that helped kibbutzim overcome their economic contradictions. He illuminates how the design of kibbutzim met the challenges of thriving as enclaves in a capitalist world and evaluates kibbutzim's success at sustaining economic equality. By drawing on the stories of his pioneering grandmother who founded a kibbutz, his uncle who remained in a kibbutz his entire adult life, and his mother who was raised in and left the kibbutz, Abramitzky brings to life the rise and fall of the kibbutz movement.
For the invitation (in Hebrew) please check here.
The Second Annual Private Law Junior Scholars Conference, June 19-20, Tel Aviv University​
​The Private Law Junior Scholars Conference is a collaboration between the law faculties of the University of Toronto and Tel Aviv University. It aims to create a forum for junior researchers from around the world to exchange about private law and different aspects of private law scholarship. The conference provides a select number of doctoral candidates, post-doctoral researchers and junior faculty (pre-tenure) with a unique opportunity to present their work and receive meaningful feedback from senior faculty members and peers.
This Year's Topic: Autonomy in Private Law: Past, Present, Future - Autonomy has long stood as the central pillar of conventional scholarship in private law. Much of private law, as depicted in these accounts, is built around the ideal-typical vision of autonomous agents as the relevant legal subjects, and frequently, private law is also claimed to realize and enhance autonomy. The assumption of the existence and desirability of autonomous agents and agency appears to be shared by widely diverging approaches to private law.
Private law's autonomy-paradigm is, however, increasingly challenged by alternative theoretical accounts of the field that identify freedom as private law's central pillar, and/or stress the relational dimension of private law. Additional challenges emanate from societal and technological developments that create new areas of power imbalances. At the same time, precisely because of its perceived emphasis on autonomy, private law might seem to offer a promising normative framework for addressing some pressing societal problems.
These challenges and promises invite further reflection about the place of autonomy in private law's past, present and future. The 2019 Private Law Junior Scholars' Conference aims to explore these issues, shed light on resulting tensions, and develop possible future perspectives. We invite papers that explore the overall conference topic from different theoretical and methodological vantage points, including historical, comparative, empirical, and critical perspectives.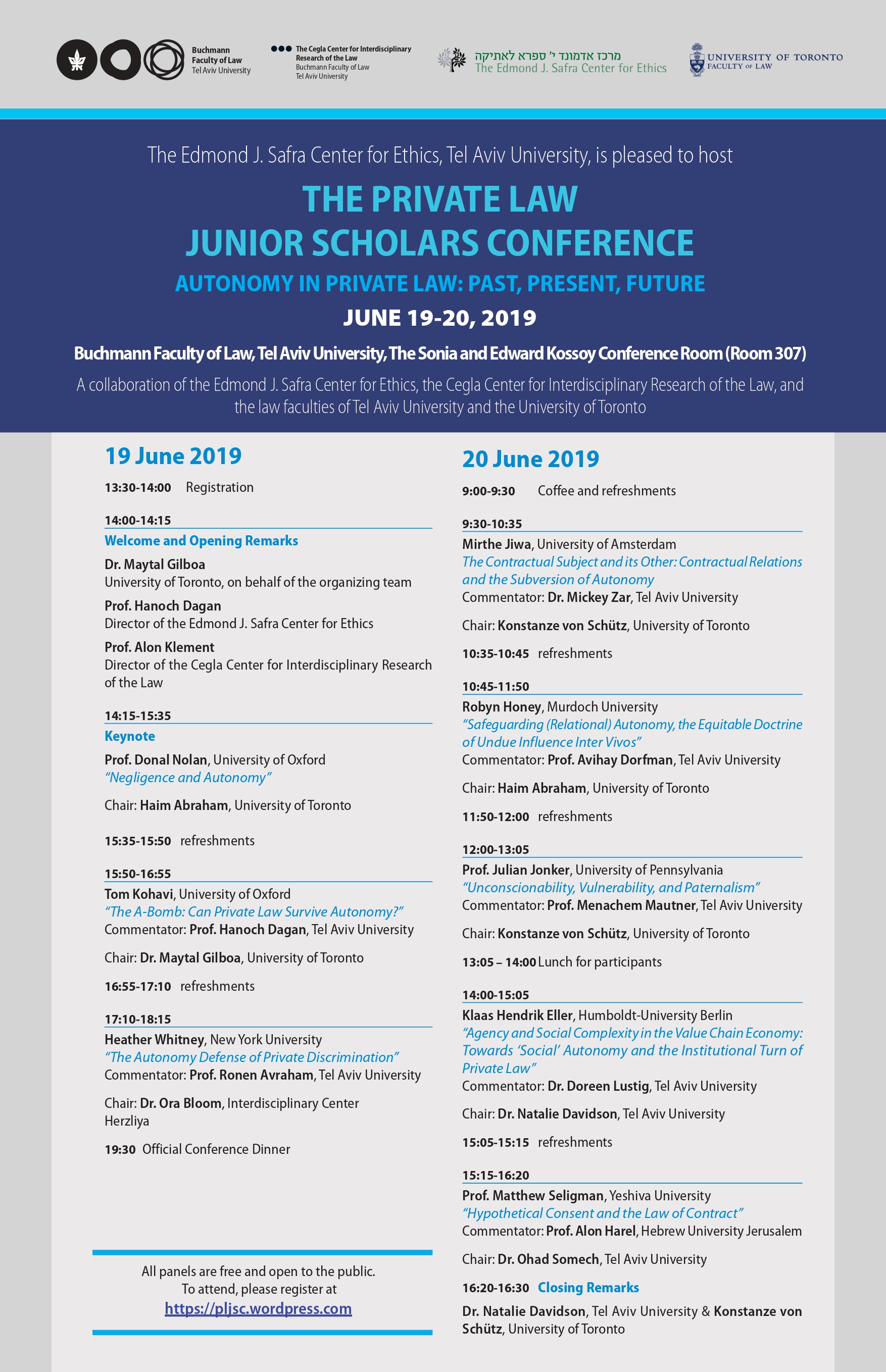 More information could be found at: https://pljsc.wordpress.com/
Conferences 2017-18